Tuesday, January 12th, 2016
---
4:48 am
- 2016
The old urge to write burrowing up, lying in bed with insomnia, resisting as best I could, but that nagging feeling when conscious thought just won't quit. It's been almost 5 years since that last entry. A perfectly well summarized sign off from the world of public journaling. So, why now, when I've kept a private journal for years and that's sufficed? A few months ago, I was reading this David Mitchell novel where time marches forward with each chapter and the characters age from adolescence to near death by the end. I started to feel incredibly sad during the reading process and I think it was something about the inevitability of time, the way change and maturation and eventually death just happens regardless of anyone's wishes. I've always been obsessed with documentations of aging and the physical aspects of these natural transformations. I always want to see all the pictures, watch the age progressions, marvel over changing features and body shapes, forever clicking on links to the Where Are They Now posts for former child stars. Maybe that's the draw to this journal, again and again. To see 15 years of maturation, muscling through the cringeworthy aspects of the adolescent voice in order to make sense of myself. To continue to try to wrap my head around the fact that I am having a life.
I'm thirty now and the heavy symbolism and expectation attached to this chronological year has mostly not bothered me, but possibly that's because externally, I am typical for this age. I am married, employed, moving closer to professional goals (just submitted my hours for licensure, small private practice, recent new job offer), accepting of the complications of my family while maintaining amiable ties, in relatively good health but more conscious of the slowing metabolism and back pains, still hopelessly in debt (grad school's a doozy), making car payments and rent payments and cursing people my age who buy houses in the Bay Area out of my own jealousy, generally less social due to dwindling long term friends in the area but very actively invested in coworker friends and cultivating couple friends, more committed in my spiritual practices, and contemplating getting a dog eventually since the urge to expand is ever present but childrearing is not currently on the table.
Maybe this need to write comes from places of transition. Constant themes of wanting to leave and wanting to stay (relationally, geographically, professionally) and with those turning points, a desire to take stock. I'm about to leave the job I've been at for the last two years and the clients are heavy on my mind, invading my dreams and amping the cortisol levels flooding my system. Writing has always been a purge. Maybe there are no neat endings that I can walk away from. No "no doubt, as usual, I exaggerated everything." Maybe I will keep reopening the book and making new chapters, regardless of their messiness. In fact, I hope I do.
Sunday, April 24th, 2011
---
6:19 pm
Semi-laid up in bed with one of the many illnesses contracted from working with children, I allowed myself to become sucked into the abyss of the internet, eventually leading me to the question of what comes up when you search for yourself online. Pretty much nothing is the answer for me, excepting a blog I had to write for a literacy class two summers ago and this livejournal, aka massive artifact of my past floating around like some kind of untouched asteroid in the vacuum of space. Even though everyone has moved on to friendster, then myspace, then facebook, and maybe some niche area like linkedin or goodreads, no longer able to justify such levels of exposure a public thing like an internet diary propels, the draw to write came right back to me, three years after the last time I looked at this thing.

And whoa, how uncool and unprofessional to have this unlocked document of my inner and outer self from age 15 onwards. So much worse than an embarrassing facebook picture or link to some minor immaturity on a website. Yet, I don't want to take it down or lock the front door. Maybe it's kind of a giddy gambling feeling, allowing cringeworthy remnants to exist.

A brief followup to 2008:
That job was horrible and abandoned quickly in order to work for an art school doing admin stuff giving me a cushy if unchallenging life until I was laid off right before I started going to school full time at Berkeley. I moved to Oakland into a dark studio for my first foray into truly independent living, worked hard at school and various social work related volunteer gigs (working with kids and with homeless people), had surgery finally, moved into my palatial current apartment with my girlfriend, had a professionally transformative summer internship at glide doing HIV prevention, graduated from Berkeley, began working with developmentally disabled youth, and applied to MSW programs. I work 50 hours a week split between one job with an autistic 9-year old in Alameda and another as an afterschool teacher with developmentally disabled students (ages 6-22). I'm still totally broke. In a few weeks I'll end my 7-year relationship with the Bay Area and move back to Northampton to start grad school at Smith, with my first year's field work placement in Los Angeles. I'll be turning 26 this summer, an official adult with thinning hair and student loan debt, maybe a calmer and less insecure version of myself, but with no real suppositions of having figured it all out. My professional and academic experiences have bettered me, made me stronger, sharper, braver, more capable of withstanding, and more generous and loving towards myself and others. I have become more interested in alone time and find socializing has happily become divorced from fear-of-missing-out. I still have many flaws and I am not always happy, healthy, or wise. Yet, all in all, these three years have been enormously positive and I'm glad to no longer be in that newly single, underemployed, anxiety-ridden place of 2008. Thanks, Livejournal, for the reminder.
Tuesday, April 1st, 2008
---
2:32 pm
- Update from 2008
And life continues at a breezy pace. I've been going to City College full time, living off a student loan and a very part time job. I'm working at this luxury men's retailer where everyone thinks I'm straight and I wear a suit all day measuring rich dudes' necks. It's bizarre and while at first I liked its being the complete antithesis to Goodvibes, it's starting to feel unsustainable. I've had various adventures in dating that take up too much of my emotional energy. My partying and clothes purchasing has experienced some peaks but feels under control. It can be summed up in the statement that I'm taking a much needed foray into my early twenties.

In other news, I've had a resurgence of anxiety in my life. Having no health insurance these days, I'm attempting to deal through exercise. I've entered a period of extreme body conciousness (not the appearance stuff) in which I am over aware of my physical reactions to all consumables. Trying to curb my dairy intake (in the closet lactose intolerant), make slight reductions in sugar (I get all shaky) and I'm still on the fence about wheat.

Otherwise, I've felt general positivity about life mainly due to a bounty of good things and the blossoming of the plum trees in my neighborhood. I'm totally in love with my friends and feel in denial/totally sad about the impending departure of Baker and the temporary summer departures of Tyler and Adele. I'll have to make more friends or something.

Overall, lots of change but I'm rolling with the punches.
Friday, December 7th, 2007
---
7:17 pm
I'm writing from my new apartment only four blocks from my old apartment. Lex and I broke up (got back together and then broke up again). I left Good Vibes and went on a trip to the Northwest with Tyler involving some lazing about, some minor bicycle touring and two weeks volunteering at a shitty farm. Now I'm back looking for work, trying to re-evaluate my life plans as New College appears to be going under. It's crazy to be on my own after living with my partner for three years. I'm more broke than I've ever been in my life. Having my own space and having to do shit on my own is so bizarre. I haven't had my own room since I lived with Wyatt when I was 18. I'm about to go home for two weeks which is amazing as I've prostrated myself to retail when it comes to holiday vacation planning for years now. I think I want to transfer to Berkeley and I'm having a little crisis as to what I should finish my BA in. But honestly, no one I know got their BA in anything remotely similar to what they do now. What if I studied to become a UU minister? It's all a lot of blah blah blah right now.
Sunday, May 6th, 2007
---
8:42 pm
Just came back from a perfect mini-weekend-vacation in the South Bay. Ultimate pool party times with old/new friends, extensive drinking, awesome sex, and a trampoline. It's incredibly hot here right now, San Francisco, you're so tricky. I got my plane tickets for an August East Coast return. Activity Club finally came in first place with trivia night. Basically everything's looking up in a much needed way.
Tuesday, April 24th, 2007
---
10:39 am
Oh journaling, it feels so awkward when you're not in the habit. Let's see, my semester is starting to wind down. I'm looking forward to full days off for a little bit until I start my summer semester which will be either Russian or Spanish depending. This semester has been more challenging than the previous ones. Probably because it involves writing which I like to torture myself over because of the guilt of bad writing in the past.
My job is sort of stupid and boring, but I feel positive about staying as it's the perfect getting-through-school-job until I start taking out loans and kicking it up a notch.

I think I want to finish by BA at New College. They have a weekend BA completion program that is A) academically challenging B) pretty affordable by private college standards C)very easy to work around schedule wise D) much more likely to take all my useless credits from Hampshire. Their psychology emphasis seems critical and progressive. While they're a little too "we're making our own alternate hippie universe" that is ultimately easier to deal with than standard educational styles.

Otherwise, the cat recently accrued 6000 dollars worth of debt because of major health problems. I was having constant panic attacks for a little while but now I have a payment plan and a kittie sans penis and life is starting to even out.

I feel pretty good socially, although I wish I had more 'fun'. There doesn't seem to be space/time/resources to have adventures or marathon hangouts or whatever. As it's gearing up for summer I wish my schedule allowed more football in the park and inappropriate drinking, in fact I wish everyone's schedule allowed that. I'm glad we're all so productive with work and freelance and school and internships, but I aim to make more space for frivolity.
Sunday, March 18th, 2007
---
7:31 pm
- big
Big things.

Lex was in an accident a month ago. I think most everybody knows about this. So many times I should have written about it but that's the nature of traumatic events, there's never enough time.

My little former sister came out as trans! Shocking! He is going by Steven which is such a nice nerdy man name. I spent this afternoon looking up trans resources on the internet. This is of course huge and crazy. In a community where people often seek out big brother/little brother friendships it is bizarre to just be a big brother to a little brother.
Wednesday, February 7th, 2007
---
11:52 pm
The internet is rarely such a time sucker upper as it was tonight. Whew. It hasn't happened in awhile but I went to that site "the facebook" to check something and got caught up in looking at all the people I knew in highschool. So insane to see people I knew at some point getting married, joining the army, graduating college etc. I guess I haven't remained dormant all these years either but without having any connection to those old friends, the changes feel much more dramatic. Weird.

I've been drinking a lot beer lately and watching a lot of Lost. I know that sounds depressing but it isn't. It's winter time and I feel okay about both of those things. My classes are not thrilling but they're doable. I'm enjoying the history one mainly because the teacher has a charasmatic sarcastic grandfather thing going on. My english class would me more enjoyable except the teacher is one of those fags that resembles a piano bar second rate comedian. It spoils my romantic idea of literature and academics.

I got a gym membership at the tenderloin Y and I'm loving it. My favorite machine is the nautilus, which is one of those assisted chinup things.
I'm just about done with the last book in the His Dark Materials trilogy. Such great stuff. I will be glad to enter into some non-addictive reading after this.

I feel like I'm on the verge of some sort of spiritual revelation or time period or something. I can sense myself reaching out towards different expressions of spirituality but I'm not sure where I'm going with it yet.
Thursday, January 4th, 2007
---
3:04 pm
- holiday extravaganza
Today I feel officially post-holiday. I did five loads of laundry(!)

The week before Christmas was spent in constant anxiety. Work was busy all the time, hours were extended, I had my final and Lex left early so I spent most nights writing to do lists about packing/catsitting/cleaning etc. Did not stop worrying until I got on the plane.

My trip felt pretty whirlwind even though it was a little longer than the usual holiday trip. Flew in on Christmas Eve on three hours of sleep. Dad picked me up at the airport. Had Christmas Eve dinner with roast beef and popovers. Spent Christmas morning at Dad's and then afternoon/evening at Mom's. Mom has a new house as per usual but this one has more space and an extra bed which was exciting. Tyler came up from the Cape to spend the holidays. We watched copious amounts of television. Tory received season 3 of the L Word and that sealed our fate for most evenings. Spent a couple days at Mom's and then brought Mom and Tory down to the Cape to meet Lex's family. This is where I had the first panic attack of my life. Luckily I had my therapist Mom and Lex's energy healer dad for help but in the end valium forced me to be calm. Not entirely sure if my trans status was revealed during body work that Lex's dad did but whatevs, I can't stress about that. Brought Tyler and Lex back to the South Shore for dinner with my Dad which went well. The next day we drove up to Boston for random reunion with Rebecca, Todd, Baker, Leah and others. Went to this hilarious Dyke Night at some club called Toast. Hoped to see someone I knew but instead just got tired and cranky instead. Tyler and I slept less than two hours at Rebecca's and then got on seperate planes. I arrived at 10:30am, took an expensive cab, showered and went to work until 9:30 which sucked.

New years eve Peter drove up and we skipped all the bar crap and just went to a huge house party where everyone was more wasted than me. We all took bunk ecstasy and that was sort of disappointing but I still had a lot of fun. The next couple days consisted of me, Peter and Lex being in continual hangover mode, watching two seasons of this British Teen Lesbian drama, going to the movies, going shopping and eating brownies.


All in all, very fun and I'm glad it's over.

lex, me and tyler looking funny.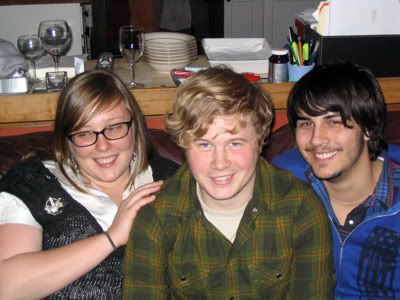 Tuesday, November 21st, 2006
---
11:26 pm
- a little rambling
Yesterday was my two year anniversary with Lex. I think it's been our best "special day" yet. We didn't do anything over the top and no presents because it's between Lex's birthday and Christmas. I bought white roses which I've never done before because of a left over elementary school rumor that white roses mean death. I decided fuck it because white roses are gorgeous. The morning was lazy with no rush to leave and requisite morning sex. I recently bought a helmet and a new bike seat so there was a lot of bicycling. Snacks at Tartine and then we went to my work(where I left my phone) which was the first time I'd ever attempted such a scary/hilly ride. We had dinner at Range on Valencia which is very pricey but my god, so good. If you are veggie than it's probably just whatever but the chicken was amazing. Chocolate souffle, also amazing. I even had some sort of mixed drink with ginger beer and that was amazing. Usually fancy meals are just for Lex's sake but for the first time I really understood the merit of spending a lot of money on food. Anyway, the whole day felt very satisfying. Many instances of sex and good food and none of the stress I usually cause with an insistence that we have some sort of special event.

I think lately I have been very happy. It's bizarre to point out as that's usually the time when you're not paying attention to the intricacies of your emotional status. I feel relatively calm about the basics (health/job/plansforfuture/friends/family/love/house) and it leaves me time to indulge interests and self improvement projects. I've been trying actively to eat better, reading classics(Anna Karenina, which is such an exciting surprise), running the track (1 1/4 miles today), trying to improve my trivia abilities, researching music, helping friends study vocab, starting more weekly friend activities (musical night with Laura) and all of it feels really good.

I registered for my spring classes. I'm taking an English class which I'm hoping will be good and not boring. I'm a little scared of writing because I feel such a divide between when I felt like some High School English creative writing hot shot and how I am now, not a writer in any way. I think all these classes are a personal challenge to break old patterns whether in writing, studying, reading, "being creative" whatever. In writing I have tendencies to over generalize, use emotional language that covers for a lack of thesis, under-research, use too much fluff, and start strong but trail off in the end. I know my personal struggles with academics are really private journal stuff, sorry.

I also signed up for History class in Western Civilization post Protestant Reformation. Maybe it will be interesting. It will at least make up for my shitty evaluation for a History class I took at Hampshire.

On top of that I'm taking a yoga class because this semester's success with enforced exercise can be repeated. Also, I think I've been injuring my back doing my yoga dvd in my living room. Stupid move. Someday I'm going to take ballroom dancing, but this wasn't in the cards this spring.
Thursday, November 2nd, 2006
---
5:43 pm
- interests
Halloween was a little bit of a dud this year. I didn't go out at all during weekend parties and had an early curfew last night. Lex and I did Clarissa and Sam from Clarissa Explains it All and pulled it off pretty successfully. It's funny how dudes wear baggy clothes and have hypothetically less body/image issues because wow I felt weird. I straightened and middle-parted my hair into a perfect mushroom cut and wore baggy corduroy shorts, a large funny t-shirt, orange flannel and sleeveless hoodie. A costume idea floating around since 2002, it was pretty anti-climactic.

I've gotten sucked into the excitement of seasonal beverages. I've already consumed egg nog, pumpkin flavored anything (but especially odwalla protein shake), crappy hard cider and "winter solstice" beer. The latter I have to say was all about the packaging which had a snowy mountain scene with a moose and descriptive beer words that I always fall for.

Now that second summer is most likely gone for good, I can relax into book reading and self preservation associated with winter. I've been re-reading White Noise by Don De Lillo and I love it so much more than the first time. I think I wasn't as into it the first reading and just perservered because it had been recommended by a girl I had a major crush on. Very enjoyable.

Also, tonight is the second round of trivia night at a local irish bar. After our team finished in 6th place, I've been vaguely researching things on Wikipedia as well as reading bizarre lists of pop culture facts like "Celebrities and their real names". Recently this went a step further into scanning through a small dictionary and a book titled "100 Most Influential People of All Time" We have to win.

Lastly, I had a surge of interest in old movies/music. Specifically, from the 50's and early 60's and cheesey music like Frank Sinatra, Peggy Lee, Fred Astaire etc. The movies are more for just general enjoyment but the music has been invigorating my feelings about living in a city. The brassy sound brings out all those emotions of optimistic urban living opportunities and the fun too.
Thursday, October 19th, 2006
---
10:29 pm
A couple days ago I started to really get into the dropping temperatures. You know, wearing long underwear, studying at coffee shops, watching old movies, boosting my immune system and other fall things. But then it switched again and it's gorgeous out and I've been sweating easily and leaving the extra layer at home. I know San Francisco weather is a constant topic of conversation but I realized my problem is not any particular weather offering, it's just the lack of season. I don't care if it's cold or rainy or hot or whatever, but having a cycle of climate changes signals so many things that I just have to fabricate for lack of that structure.

Studying earlier this week made me wish I was a full time student. Maybe it was my other studying friends utilized in companionship and comparison. Something about the self imposed schedule and reward system, the over caffeinated reading or whatever, it just feels more productive than retail ever could.

This year for Christmas my little sister and I are giving eachother photo documentaries of our lives. The idea was spawned from realizing Tory's going to turn 16(!) in a couple months and we haven't lived together for 4 years. I'm missing out on her adolescence and she's missing out on my early adulthood. It should be a fun project.

This weekend is Lex's 25th birthday. I'm really excited about my splurgy gift.
Tuesday, October 10th, 2006
---
12:37 am
Today I got my birthday tattoo. It is a line drawing of a standing otter looking to the side. Lex did the design. It takes up a large portion of my right bicep. My tattoo artist looked and acted a lot like Dick Van Dyke. I appreciated that because most tattoo dudes have really annoying personalities.
Friday, October 6th, 2006
---
4:54 pm
- buses and themes
It's shitty and rainy out again, surprise! Things have been pretty good in a quiet way. I've been biking more, valiantly attempting to attend my classes, running on a track, and trying a new thing called keep the house spotlessly clean. The usual method of cleanliness over at 2844 is to halfassedly maintain until the mess is way too much. Usually this is because we have a houseguest or just don't do laundry for a long time until it's disgusting and we have to make some efforts. But due to some too boring to discuss landlord issues, everything is semi-perfect and I clean all dishes as I do them and almost sort of make the bed.

I've been taking the 27 home from work lately. If you don't know about buses in San Francisco then whatever, but I have been taking the 49 which runs down Van Ness all the way to the mission but still drops me about 8 blocks from my house. It also never comes and I usually walk almost all the way to Market until it finally comes. This is a nice excuse for exercise and enjoyable to take a quick walking tour of the sometimes dazzling sights of Van Ness (seriously, I like walking past the opera and city hall buildings at night with the lights on). But I never feel safe walking at night any more. The 27 stops two blocks from my work and takes me (admittedly very slowly) all the way to two blocks from my house. I also enjoy what I call the very cheap tour of the city parts of the city. I mean, let's be realistic, the mission is the brooklyn of san francisco and all the feelings of urban living are sometimes lost on wide streets that feel a little too sprawly.
Also, a good representation of my two bus choices: the 27 is like that friend that while they drive below the speed limit and meander around, you know that they will always come pick you up and always bring you right to your house. The 49 is that friend that couldn't be bothered to pick you up where you are and you have to go meet it somewhere more convenient, then they're late and they drive like a maniac, pick up everyone else so it's packed, and then drop you off far from your house because "it's not on the way"


I've felt very enamored with ideas around themed socializing lately. Three key ideas:
1. The Breakup Party
This is a party I want to have at Les's house. They have this set of champagne flutes they found on the street and on them is engraved "Paul & Mariah November 6th, 2004" Now clearly this was a shortlived marriage. So the idea was that we would have a breakup party around that date in honor of P + M. Breakup culture has such a wide variety of untapped resources. People could bring breakup mixes to be danced or sung along to (breakup songs are always the best), people could dress like a famous breakup (brad + jen, ben + jen, ellen + anne, justin + britney etc) and everything could be just generally emotional/performative/fun. So far after the first night of planning with those housemates, I've had a hard time trying to drum up appeal. I know, it's probably in poor taste being someone in a relationship but I'm going to keep at it.

2. Corporate Singles Night
This is a much simpler idea that will A) probably actually happen and B) wasn't thought up by me. But still, it seems fun. The idea centers around most of my friends having jobs within companies and institutions that require a corporate casual dress attire and probably the juxtaposition of being queer/young/differently politicked and within that world. Even though I just sell sex toys and don't actually relate to this I still think it would be fun to get dressed up and go to the fancy singles lounge on our block for some drinks that aren't beer.

3. Gentlemen's Social
I'm not talking about actual men's night stuff because I long ago gave up on that awkward fest but more a night really devoted to playing cards, maybe smoking cigars, drinking stuff that I'm probably to wussy to stomach and making conversation. Some of this has already been done (well just the conversation and cards) in a bunch of previous gatherings but I want one night devoted to these things.
Sunday, September 10th, 2006
---
3:09 pm
- shitty
So, last night I was mugged. I was walking down 22nd around 10:30pm going to a friend's house at 22nd and Hampshire. I had headphones on and I was texting which is stupid to do in retrospect. Around Treat St this big guy starting walking right next to me and then after a couple seconds punched me in the head. I hit a wall and fell down. Some other little guy came up with a knife and they took my money but left my wallet. They also took my phone. The little guy was like "Get his fucking ipod" but the big guy was already running away. I told him it was a cd player and he could have it but he took a look and then ran. Some nice guy on a bike asked if I was okay which feels good because you always think that people on the street look the other way when stuff happens.

They only got my second hand phone and about fourteen dollars. They didn't even take the fast pass that's worth three times the cash.
What sucks is that my knee feels fucked up and it hurts to bend it too much. I know that it's just some bad bruises but it really sucks. My front tooth is chipped though and that is what I hate the most. Luckily I just got dental insurance through work. But for now the nerve is exposed and it's made eating and brushing my teeth painful.

I feel a lot of things about it but mainly just kind of depressed and scared/angry.

If anybody needs to contact me they can call Lex or call me at the store (not on Mondays/Wednesdays though). I'll try to get a new phone some time this week.
Monday, September 4th, 2006
---
2:40 am
I'm not usually one to talk music here but this song "Hurdy Gurdy Man" by Donovan is so intense and applicable in multiple scenarios as sexy/bizarre/sad etc.

Lex comes back tomorrow night. I have had fun with my bachelor time. I've even gotten pretty used to it. It will be an adjustment to make plans with someone else in mind and not spend time watching cancelled television shows on youtube.com. and not be able to leave/go to events on whim. But regardless, I'm excited. I want to have sex and do romantic things and honeymoon and stop eating lazyman meals of hummus and tomatoes with bread/cheese.

I've gone out every night this weekend and also hung out with Baker each of those nights. I feel impressed with our ability to conquer awkward bars, straight dance nights,and gay clubs. I'm also feeling very socially relaxed lately. Not exactly invigorated but without tension or old grudges.

In other news tomorrow is my 3 year mark of being on testosterone. All I have to show for it is this crappy facial hair! Actually, a lot has changed. I'm at a plateau with physical changes. Nothing other than weird beard stuff has happened in the last year. I assume that as my twenties progress I'll see more intense changes that have to do with age. Looking at peers who have had similar transition time but are older, the adult look seems to take time.

Looking back, I've never had doubts about this choice, which makes me very lucky. Witnessing the amount of confusion and pain around this decision makes me glad for relative ease of mind.
I think the one regret I have is that I didn't put any structure into place to remember things better. I can't really remember what a lot of female bodiedness and being read that way felt like. I mean, I can abstractly think about it but it's like trying to remember what it was like to be a kid and have a small body. It can't really be done.

Tomorrow I have an actual day off in which I don't go to school or work. I've felt a little burned out lately.
Friday, August 25th, 2006
---
10:30 am
- be glad that I didn't make this entire entry about insomnia.
I have been having a shitty time these past couple days. Today is looking better though. I have been suffering weird bouts of anxiety and insomnia. Tuesday night I didn't sleep at all. I thought I would pass out on Wednesday since I had a store meeting, a full day of school and bike riding around Oakland. For precautionary measure I decided to sleepover a friend's house so as to have a change in environment and to maybe cut down on bed loneliness by hearing someone else breathing next to me. However, none of this was effective and I did not fall asleep until 5am after given a whole bunch of herbal sedative.

The good news is that last night I slept! Around nine hours, maybe even more. I fell asleep right away. I still feel tired now but our household has recently acquired a french press, so that's temporary.

With Lex gone I've noticed the need to talk all the time. When you know someone and they know you so thoroughly and are always interested you can kind of audio diary with eachother. I didn't talk to Lex on the phone for a few days and found myself wanting to shamelessly talk all the time. Let me tell you about my mother's career choices, my sexual practices or where I think the company is really going.

I'm trying to keep the house pretty clean and organized mainly as a point of pride around the common misconception that I am not clean/careless.

Also, I am growing out my "beard" as an experiment. Sometimes I think it looks hideous, sometimes it's sort of hot. Tonight I will attempt to get other people's opinions on where this experiment is going.
Tuesday, August 22nd, 2006
---
12:41 pm
- chatty cathy.
I recently started classes. It feels real this time. Real school. Maybe because they are day classes twice a week makes it more school like than last semester's once a week night class. During the day it feels like college with shitty attitude cafeteria ladies, locker rooms, lines everywhere, and the library packed with people looking at myspace on computers that say "research only".
I feel so anonymous there, it's kind of amazing. I have run into a few people I know but for the most part it's this giant community college where I am nobody. It's so anonymous I started using my legal name in class. After an entire lifetime of first days at school where the teacher said my name and I said some other nickname I went by, I decided fuck it, who cares. I started doing this last semester but the professor couldn't say my name for some reason and just called me Mr. Rutter all semester, which made me feel like I was in some weird prep school.
In my tennis class you have to greet eachother and I'm thinking of telling people they can call me "Cash" because it's more similar in being monosyllabic and probably more of a familiar name. It feels dangerous somehow to go by two names like my school persona and my regular life will somehow clash and make for some awkward situation but I think this is pretty unlikely.

There's this guy I keep seeing which I feel the need to make note of because it's so frequent and bizarre. I met him because he was a customer. Young looking with a scraggly goatee and long hair, he and his girlfriend were trying to buy a bunch of bdsm stuff and Miguel told me to card him. I did and he was sketchy and said he forgot his ID and so did his girlfriend and because underage kids buying our stuff is a serious law suit waiting to happen, we denied him. He came back a week later with his ID and bought really vanilla stuff which seemed like a weird switch but whatever. Then I saw him a block from my house and I smiled at him and he looked freaked out. Then on my first day of classes I realized I was walking next to him twice in different parts of the campus. Weird. Then yesterday I was exiting the locker room embarassed because I realized that I am really gay because my not that short shortshorts are way shorter than anybody else's clothing. And there he was changing and I had to squeeze past him. Maybe this is not weird. Maybe I see the same people all the time and just don't notice.

Lex just left this morning for a two week vacation on the east coast. I am trying to repress all bizarre fears about plane crashes or natural disasters that will separate us. Maybe they are based on intuition or maybe it's just shitty wars and earthquake/hurricanes on the news combined with the foresight that our apartment will feel lonely with just me and the cat.
Wednesday, August 2nd, 2006
---
10:54 am
My two recent goals: become a better top and learn/practice yoga.

Reflecting on those goals, whoa, how San Franciscan of me.


I've recently been having little stabs of panic about this upcoming semester in which I have no days off. In the mean time I will try to fill my days off with as much aimless downloading of music, reading at atlas and happy hour-ing.

I ordered a new binder. Not really news except that I hadn't in getting close to 2 years. I think it was important to remind myself that this is my life, I haven't had surgery and I won't for at least a little while unless something severely shifts in my life. I may not have 8 grand but I do have $30.
Thursday, July 27th, 2006
---
10:57 am
Good news: I got promoted! I am now a shift leader. I am relishing in the two dollar raise and all the power and glory.

In other news
The never ending construction of my apartment building reached a new low when I woke up to nasty paint fumes. All the windows in my apartment face one direction so I can't shake these nasty fumes. As is, I'm wearing a bandana bandit style over my face but I don't think it's doing much for me.

New topic- Everyone's on vaycay. There is a friend deficit. Lizzie, Les, Adele, Baker, Elan etc. Okay, written out that doesn't seem so bad but that's some pretty core people to lose out on during summer fun season.

San Francisco was just dealt a miniature heat wave that was nice and shocking all at once. Today is back to sweatshirts and gray skies and I'm kind of glad. Just in time for me to watch gamer movies inside and no longer scour the streets looking for nonexistent cooling devices such as a kiddie pool or water guns.
Recently Brittany and I went on an extended search for these things and finally discovered the one summer related item at walgreens that wasn't a mini handheld fan: a mist mate. It was this bizarre device that screws onto a hose and produces mist very similar to what vegetables experience at a supermarket. We lay in hammock/lawnchairs and took turns misting eachother until the downstairs neighbors complained that she was "watering plants a little too heavily". Then as a last resort we filled her bathtub and treated it like a very small kiddie pool. Urban summer fun times!